The "new and safer" alternative to cigarettes and tobacco smoking actually isn't a safer alternative at all. After many studies and reports, these E-cigarettes and Vaping devices are actually just as harmful to your body and oral health as the traditional cigarette.
"Vaping" or the smoking of vapor from the e-cigarette is actually not just "harmful water vapor" as we first thought. This "vapor" is made up of nicotine, ultrafine toxic chemicals and metals. YUCK!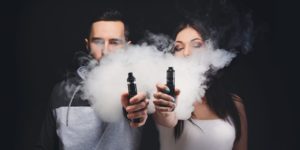 These chemicals and the nicotine combine to create a horrible living environment for your gums and teeth! The nicotine will dry your mouth out causing gum recession which then can lead to increased risk of cavities, tooth decay and actual loss of teeth. Nicotine is also found to cause promotion of tumor growth in lung, gastrointestinal, pancreatic, and breast cancer. Nicotine is a stimulant that can cause bruxism which is grinding of teeth, that can also cause tooth damage. The chemicals that are found in the vaping liquid can lead to heart and lung disease and even cancer.
The ADA is actually calling for a total ban on vaping products that are not approved by the FDA for tobacco cessation because of all the negative effects as well as the recent epidemic of lung disease that is directly related to vaping.
If you are a smoker or vaper, please be aware of the effects this can cause on your overall and oral health and make sure you are getting your regular dental check-ups.
UPCOMING EVENTS!!
**HandsOn! Mighty Mud Run and Festival: There will be a Mud Run, Kids Zone/Race, and a Dental Exhibit! This is sponsored by REID & REID and helps support HandsOn! Stay tuned for date and time! https://www.handsonwnc.org/
**PINBALL EXTRAVAGANZA by Camplify: This is March 1st, 2020 from 6-9pm, a fun pinball tournament that includes raffles, prizes, pizza, snacks and drinks all night. This is sponsored by REID & REID and helps raise funds for LOCAL LEADERS IN TRAINING in Henderson County! https://www.camplifync.org/events/pinball-extravaganza.html
**CAROLINA ANGEL'S 8K Trail Race for Angelman syndrome: This race will be at Camp Tonawandah on MARCH 7th, 2020 at 9am. Prizes for first 5 men and first 5 women. Sign-ups are on the link! This is also sponsored by REID & REID! This race helps support funding for research into a rare genetic disorder called Angelman syndrome. https://www.facebook.com/events/camp-ton-a-wandah/carolinas-angels-8k-trail-race-for-angelman-syndrome/2191401797820757/