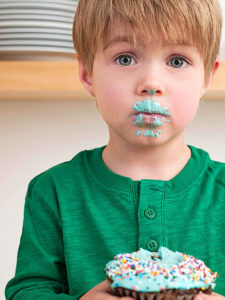 According to a new study, 98% of toddlers and 66% of infants are consuming added sugars in their diet that can affect dental and oral health.
Infants (6-11 months) are at a risk of consuming added sugars from foods like flavored yogurts, baby snacks, and sweet baked goods such as, muffins/donuts/cookies/breads, etc.. Toddlers (12-23 months) are at a higher risk of these added sugars because of fruit juices, candy, and the carbohydrates that are more introduced to this age of child.
So, what is the significance of this study? Diet and nutrition affects oral health. What we eat affects the health of the tissues in the mouth and in turn the health of the tissues of the mouth affect nutrients that are consumed. As we know the more sugars that are consumed, the more risk of caries (tooth decay).
What some might not know is that great blueberry muffin is a carbohydrate, and when those carbs break down they break down to sugars. If that yummy muffin is left hanging out in your toddler or infants mouth, boom…more risk of tooth decay!
What can we do as parents to help our children and their oral health?? Lets start with these few ideas:
*Keep fruits and veggies around for snacks instead of chips, cookies and crackers
*Serve cheese (its gouda for you!) as a snack or with a meal– cheese, (especially cheddar, monterey jack, and swiss) makes the mouth produce more saliva, which will wash down the food particles left in the mouth.
*Sugary snacks should be served with a meal, not as just a snack
*Offer plain water instead of juice/soda
*Broccoli, milk, yogurt, cheese are good sources of calcium for the teeth!
Also, as you know, brush your child's teeth twice daily with a fluoride toothpaste. Fluoride can reverse early tooth decay. Make sure to floss your child's teeth at least once a day. Brush especially after your child takes medicine, they often have added sugars in the medicine and those can sit on the child's teeth.
Visit your local pediatric dentist as early as a year old or at least 6 months after the first tooth has erupted. Regular visits to the dentist can help catch decay early and keep your child's teeth healthy!
****UPCOMING EVENTS in the Community****
**HandsOn! just opened a new dental exhibit in January 2020 that was sponsored by Drs. Reid and Reid! Check it out… have fun and learn about dental health!
**FEBRUARY is DENTAL HEALTH MONTH! DR. Richard Reid will be making some appearances around local elementary schools and talking about how to keep your teeth healthy. Be on the look out for him!
**MARCH 1st at 6pm is the Pinball Extravaganza at the Appalachian Pinball Museum, come out and have a fun night with pizza, snacks, drinks and of course PINBALL! FUN and PRIZES! Drs. Reid and Reid are sponsoring this event and it supports YOUNG LEADERS in HCPS!
**MARCH 7th at 9am is the Carolina Angels 8k Trail Race! Come out and support fundraising for Angelmans Syndrome! This event is being sponsored by Drs. Reid and Reid!
**MAY 3rd is the GNAR! The Gnarliest Kids Adventure Race! This event is also sponsored by our doctors REID and REID, come out and have fun racing and raising money to support the Mountain Community School
MORE EVENTS COMING YOUR WAY SOON!